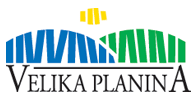 Walks and hiking
Pleasant walk in fresh air amongst conifers and pastures
The mountain offers numerous possibilities for walks and hiking, which can be combined with the visits of the natural and ethnological sites of interest.
You can choose between two routes when you exit the cable car. You can either continue the drive by the double seat lift Šimnovec, or set off to the top of the mountain by foot (30 minute walk). In any case, we recommend that you walk a little further on the gentle slope of the mountain for additional 15 minutes and visit the herdsmen's settlement, which is 15 minutes away. Pass the lodging house Zeleni rob and follow the signs for the herdsmen's settlement- Mala planina.
The settlement is full of interesting sites worth seeing. You are welcome to peep into one of the herdsmen' cottages and try home made dairy products. You can continue your hike to Mala planina and visit somewhat smaller herdsmen's settlement or several lodging houses, where you can treat yourself to refreshment.
Kontaktinformationen
Weiterführende Informationen:
http://www.velikaplanina.si/